Legacy Metal Fabricating, LLC

 "Forming Partnerships from Ideas to Production"

Design, Engineering, Prototyping

Double click here to add text.

We are dedicated to consulting with you to get the perfect design for your idea.  We can create parts based off of an idea, a crude drawing, or a preexisting print; our team will even reverse engineer a part and recreate it for you perfectly if needed.

General Capabilities:

-Rapid Prototyping

-Research & Development

-High Volume Production

-Powder Coating, Zinc Plating, Chrome finishing

-Custom Packaging

Engineering Procedures:

-Complete Solid Works Models

-CAD Drawings

-Reverse Engineering

-Print Detailing

-Conceptual Engineering

-Technical Support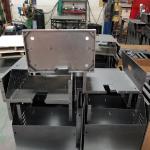 Product / Customer Scope

-Office Furniture

-Medical

-Gaming

-Service Truck Components

-Food Industry Components